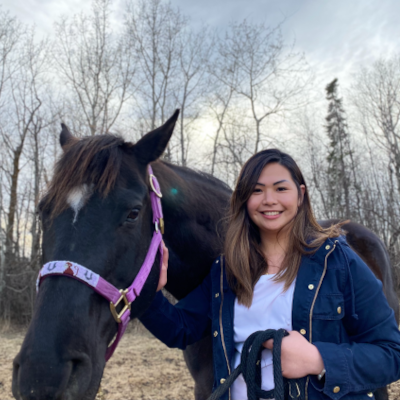 Ria Vardeleon, B.Sc.
Mental Health Therapist
Ria is in the third year of her Masters of Counselling degree at City University of Seattle. She is very excited and is working very hard to continue her journey to become a provisional psychologist. Her areas of interest are complex trauma, PTSD, grief and loss, and anxiety. She believes that therapy should be client-centred, evidence-based, and culturally-sensitive. Her therapeutic approach draws from Cognitive Behavioural Therapy (CBT), psychodynamic therapy, and attachment-based therapy. She has experience with canine-assisted therapy and is looking forward to incorporating equine-assisted therapy into her practice. She believes that true healing happens when we embrace and make choices that align with our most genuine self.
Prior to joining Equinox, Ria's work with Edmonton Catholic Schools allowed her to help children and their families manage a wide range of presenting concerns. She has also spent many years volunteering with Big Brothers and Big Sisters and the Stollery Children's Hospital.
In her free time, Ria enjoys spending her days with her family and her dog, Snickers. Snickers is a German Shepherd Husky mix and enjoys cuddles. Ria also loves going on road trips to the mountains and running in the River Valley and Terwillegar Park.