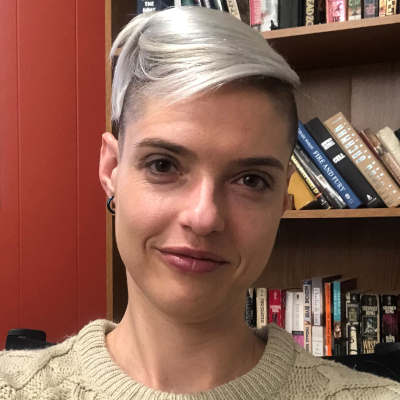 Amanda Slugoski, M.A.
Owner, Registered Psychologist
(Owner/Registered Psychologist)
Amanda Slugoski is the owner of Equinox Therapeutic and Consulting Services.  She has her Master's Degree in Counselling Psychology with a specialization in Equine-Assisted Mental Health, is a Registered Psychologist with the College of Alberta Psychologists, and is also a member in good standing of the Psychologists Association of Alberta.  Amanda focuses primarily on substance abuse, trauma therapy, couples counselling, self-harming behaviors, and anxiety/depression counselling.  She has specialized training in treating complex trauma and uses a variety of modalities including those drawn from Eye Movement Desensitization and Reprocessing (EMDR), Cognitive Behavioual Therapy (CBT), Dialectic Behaviour Therapy (DBT), Structural Dissociation Theory, Animal-Assisted Therapy, Polyvagal Theory, Trauma-Informed Stabalization Treatment, and Emotionally Focused Therapy (EFT).
In addition to her work with Equinox Therapeutic, Amanda also owns Horse Powered Solutions, through which she facilitates equine-assisted corporate and personal development workshops in Canada and the United States. She also co-founded Arivaca Nature School, located in Arizona, which utilized animal and nature-assisted therapeutic programming to support adults with developmental disabilities up until 2010.
As a dedicated horseperson who has ridden and loved horses all her life, Amanda trained horses professionally and taught riding instruction for 13 years, both in Canada and in the United States. She twice represented Canada in international showjumping and dressage competitions with the Canadian University Equestrian Team.
Speaking Engagements/Trainings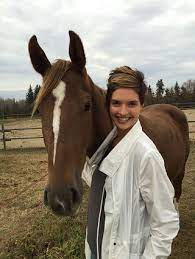 "Communication for De-Escalation" and "How to Keep your Work at Work", July 6, 2016, Staff training for Peace Hills General Insurance Company, Edmonton, AB.
"Understanding Posttraumatic Stress Disorder", March 9, 2016, Networking Breakfast for Peace Hills General Insurance, Edmonton, AB.
"Eating Disorders and Caregivers", February 3, 2016, Eating Disorder Awareness Week Lecture Series, Edmonton, AB
"Foundations of Equine-Assisted Psychotherapy", November 15-16, 2015, Canadian Finals Rodeo Horse Wellness Expo, Edmonton, AB
"Two Day Training Intensive in Equine-Assisted Psychotherapy", June 13-14, 2015, Edmonton, AB
"Posttraumatic Stress Disorder – An Overview", May 2, 2015, Edmonton Fire and Rescue presentation given to Fire Chief Ken Block and the Fire Department Peer Support Taskforce, Edmonton, AB
"Ethology Lecture: On Equine-Assisted Psychotherapy", November 27, 2014, The King's University College, Edmonton, AB
"Your Clients and Posttraumatic Stress" November 7, 2014, Alberta Health Services, Edmonton, AB
"Introducing Animal-Assisted Psychotherapy", July 8, 2014, Bent Arrow Traditional Healing Society, Edmonton, AB
"Posttraumatic Stress Effects in City of Edmonton Employees", June 24, 2014, City of Edmonton Disability Management Services, Edmonton, AB
"Exploring Equine Assisted Mental Health", June 7-8, 2014, Edmonton, AB
"Training in Risk Assessment" December, 2013, Edmonton Drug Treatment and Restoration Court, Edmonton, AB
"Using Horses in the Treatment of Substance abuse – A Workshop for the Edmonton Drug Treatment Community Restoration Court", September, 2013, WELCA, Edmonton, AB
"Exploring Equine Assisted Mental Health", June 22-23, 2013, Edmonton, AB
"Ethology Lecture: On Equine-Assisted Psychotherapy", November 13, 2012, The King's University College, Edmonton, AB
"Exploring Equine-Assisted Applications to the Treatment of Eating Disorders and Dissociative Identity Disorder", February 11-12, 2012, Arizona, USA
"Learning From Horses to Learn About Ourselves – An Introduction to Equine-Assisted Mental Health", September 24, 2011, Body, Soul, and Spirit Exposition, Edmonton, AB
"Workshop on Introducing Equine-Assisted Mental Health: An Experiential Approach To Psychological and Emotional Wellness", September 10, 2011, Festival of Health and Wellness, Edmonton, AB
"Five Day Training Intensive in Equine-Assisted Psychotherapy", July 11-15, 2011, Edmonton, AB
"Explaining Trauma Therapy: An Introduction to How Trauma Works", Spring 2011, Nor Med Therapies, Sherwood Park, AB
"An Introduction to Equine-Assisted Mental Health", December 2, 2010, WELCA, Edmonton, AB
"Introducing Equine-Assisted Psychotherapy (EAP) as a branch of Animal-Assisted Therapy (AAT)", November 16, 2010, The King's University College, Edmonton, AB
"Equine-Assisted Psychotherapy", October 26, 2010, Canadian Association of Drug Treatment Court Professionals National Conference, Banff, AB